Knowledge Begets Love
"All that is not done for love of God is LOST." Given that premise, then much of the work done around us and through us may be of no avail to us because it lacks the eternal touch. Consider the American attitude portrayed by Ohio State a few years back at the graduation ceremony. The graduates went around to all the dorms and wrote the Word Luv on each window. Now this is not the love which forms the commandment of God. In fact the lawyer sought to trip up the Lord with the question posed, "What is the greatest commandment of the law?"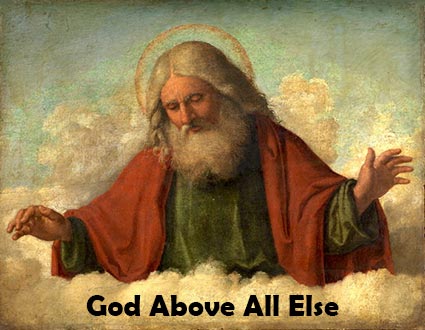 Even today the answer resounds in our hearts for we are to love the Lord our God with our whole heart, our whole mind, our whole strength and with our whole soul. The second is like this for we are to love our neighbor as we love ourselves. First issue is the knowledge of love itself. So we return to the study of the Greeks of this issue. Therein we find three words given over for the use of love. The first, Eros, was used to indicate the attraction of one person to another. Today it is indicated by Cupid and his little arrows which seek to strike the heart. Eros has taken up the character of the erotic and focuses upon the pleasure of the sense experience. It ought to be the first experience of the soul yieldingto a divine attraction but alas the supernatural has been placed on the back burners whilethe sensual is on fire. Did our Lord use the word "eros" for love? No, so let's proceed to the second word in Greek for love: "phileo".
Every American knows the city of Philadelphia which is composed of the two Greek words which mean "brotherly love". Phileo is used to indicate that a relationship has gone beyond physical attraction and the two souls know discover the personality of the individual who has captured their interest. In this stage of friendship they begin to reveal what is most important to each. They can share anything and everything. They feel so comfortable in each other's presence. But like eros, phileo in our contemporary world no longer protects the integrity of the soul with whom our interior life can be shared. When phileo does not remain in the search (mind) for more and more about the other then it quickly falls to external expressions dragging the experience down into eros (now lust). Did Christ use the term phileo: no.
Finally, we come to the final word which in Greek prior to our Lord was rarely used and we will see why. The word is agapao and it is used to express the heights of human lovewhich touches on the divine. It can only be defined using adjectives to make it clear. Agapao defines a love that is victimal, a sacrifice, and a complete denial of self for another. Our Lord gives the greatest example in that moment upon the cross. He could say what greater love is there that a man should lay down his life for another. First, you and I are attracted to the Cross (eros). When I am lifted up I will draw all to myself. Second, we are befriended by His act of ransom, He has purchased us by his Precious Blood and made us His Friends when once we were His enemies. Finally, if we unite ourselves to the Cross of Christ we learn to love as He loved us. The Cross of Christ defines the Greatest Commandment of all times. It is the Cross which reconciles all things to God and hence through it we can love the Lord our God with our whole heart, our whole mind, our whole strength and our whole soul. We may then love our neighbor as we love ourselves for God's love has made lovable and capable of loving another.
There is much more to be reflected upon this Sunday and I encourage all to consider St. Alphonsus Liguori's reflection as well as St. John Chrysostom. God bless you and prepare for the holy month of the rosary which is a marvelous way to spiritual increase in our love for God.
In the hearts of Jesus, Mary and Joseph,
Fr. Richard, S.D.B.Voigt
P.S. I had an physical eruption which set me back and now sets me forward on a new level of recovery. God is good but He sure works straight through crooked lines. Thanks for all the prayers.